Made with passion in Belgium from our best ingredients
Fabriqué avec passion en Belgique à partir de nos meilleurs ingrédients
Full of ideas and ingenuity, Deavas has launched its brand new handmade artisanal snacks, the "Belgian Thins". A great alternative to the traditional chocolate bar.
We have selected the very best from around the world: chocolate from Peru and Santo-Domingo, organic almonds from Murcia, bio hazelnuts from Piemonte (Italy), sugar from Paraguay, etc.
Fourmillant d'idées et d'ingéniosité, Deavas a lancé sa nouvelle marque de collations faites à la main, les "Tuiles Belges". Une alternative gourmande aux traditionnelles tablettes de chocolat.
Nous avons sélectionné des ingrédients purs et de qualité aux saveurs authentiques: du chocolat du Pérou et de Saint-Domingue, des amandes biologiques de Murcie, des noisettes bio du Piémont (Italie), du sucre du Paraguay, etc.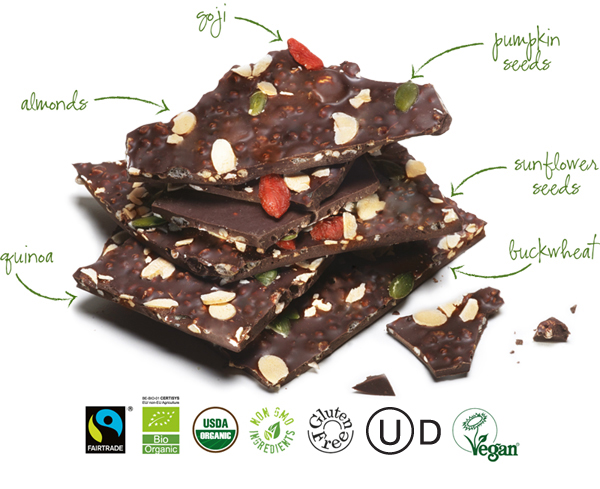 Organic and fair-trade milk chocolate
Chocolat au lait biologique et commerce équitable
Our Belgian Thins are handmade. Each piece of broken chocolate is unique.
All inclusions are partly inside and partly outside of the chocolate.
Our cocoa is full traceable and comes from 4 cooperatives: Acopagro, Norandino, Oro Verde and Conacado.
Flavors slightly vary depending on the harvest and the availability. Example: in January 2016, there was no cocoa from Acopagro (Santo-Domingo) available, decreasing the bitterness of our chocolate.
Fairtrade allows in an organized and controlled manner to improve the living standards of smaller producers by offering a fair price for their work. This price takes into account the needs of the producers so that they can make a profit from their sales.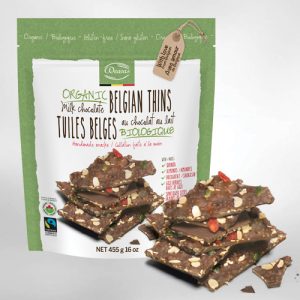 Thin bark chocolate with healthy inclusions
Easy to carry
Closing zipper
Delicious and affordable
Gluten-free

Chocolat à casser avec des inclusions
Facile à transporter
Etuis refermable
Délicieux et abordable
Sans gluten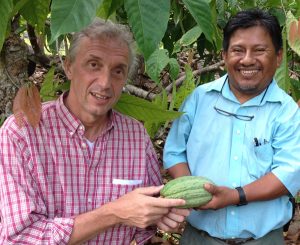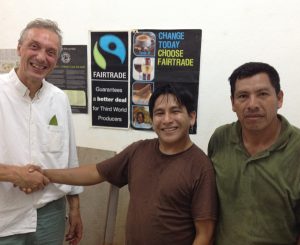 Nos Tuiles Belges sont fabriquées à la main. Chaque morceau de chocolat cassé est unique.
Toutes les inclusions sont en partie à l'intérieur et partiellement à l'extérieur du chocolat.
Notre cacao est entièrement traçable et provient de 4 coopératives: Acopagro, Norandino, Oro Verde et Conacado.
Les saveurs peuvent varier légèrement en fonction de la récolte et de la disponibilité. Exemple: en Janvier 2016, il n'y avait pas de cacao d'Acopagro (Saint-Domingue) de disponible, ce qui a diminué l'amertume de notre chocolat.
Fairtrade permet d'une manière organisée et contrôlée d'améliorer les conditions de vie des petits producteurs en offrant un prix équitable pour leur travail. Ce prix prend en compte les besoins des producteurs afin qu'ils puissent tirer profit de leurs ventes.